Nintendo
Reminder: Buy DOOM Eternal Early On Switch To Get DOOM 64 And 'Rip And Tear' Pack Free
Update: If you're still yet to pick up DOOM Eternal on Switch, consider this a friendly reminder that you may want to do so pretty sharpish.
This weekend will be your final chance to claim a digital copy of DOOM 64 and the DOOM Eternal: Rip and Tear Pack by purchasing the game early. You have until 22nd December to take advantage of the offer – full details can be found below, and our full review of the game can be found here.
---
Original Article (Mon 30th Nov, 2020 16:30 GMT): If you choose to pick up DOOM Eternal within its first couple of weeks on sale on Switch, you'll be treated to an early purchase bonus.
Nintendo has revealed that players who buy DOOM Eternal before 22nd December (it launches on 8th December), will receive a digital copy of DOOM 64 on Switch and the DOOM Eternal: Rip and Tear Pack. At the time of writing, this bonus has only been confirmed for players in Europe.
Here's what that Rip and Tear Pack contains:
– DOOT Revenant Skin: a premium player demon skin for use in BATTLEMODE
– Cultist Base Master Level: a remixed version of the campaign level with new challenges, combat encounters, and surprises
– Throwback Shotgun Weapon Skin: bring DOOM's classic shotgun to bear on DOOM Eternal's demon hordes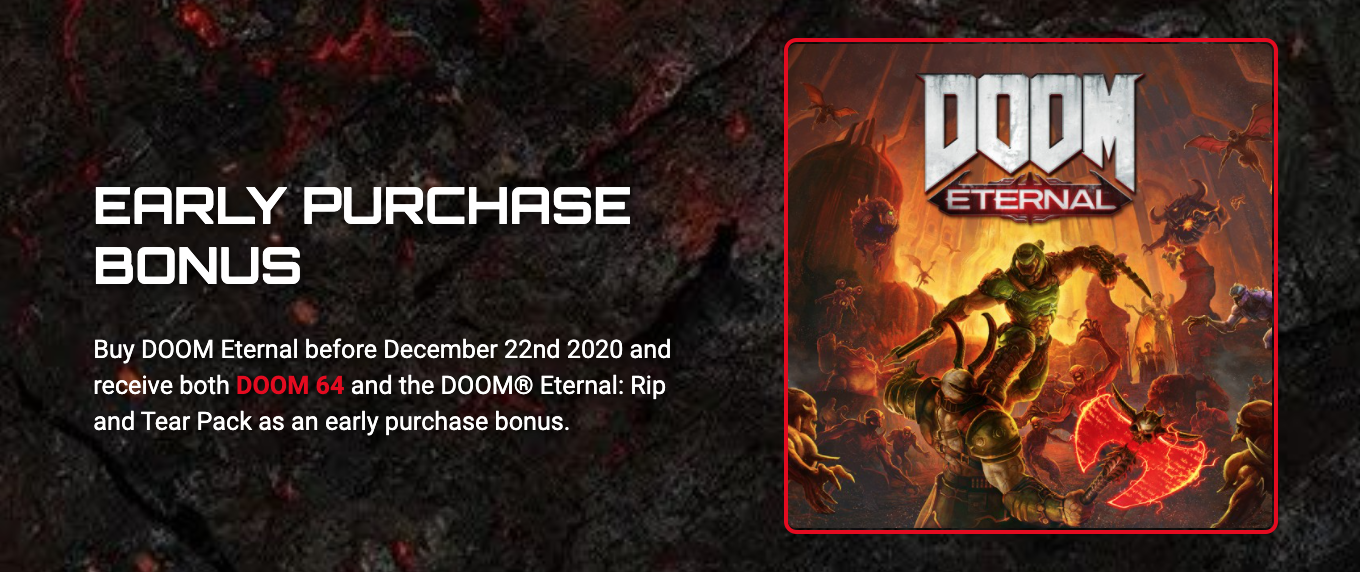 If you missed it earlier today, we published an interview with port wizards Panic Button, the studio responsible for getting DOOM Eternal running on Nintendo's hybrid machine. It's worth a read if we do say so ourselves, so feel free to check that out.
Will you be returning to Hell on 8th December? Will you be buying the game early to grab this bonus content? Let us know with a comment.